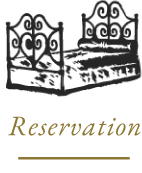 Madrigal Suite (2 People) $15000+10% (Room Size: around 46 square meters)
1. Breakfast for 2 People.
2. Dinner for 2 People (Dinner plate set or buffet depends on temporal menu)
3. Beverage in mini-bar.
4. LCD TV.
5. Sound system and CD service in Tallis Hall.
Notices:
1. To maintain the quality of accommodation, pets and cooking are not allowed.
2. Due to plenty boutiques for room furnishing and consider safety for children and pressure to parents, we are not recommended children under 12 years old.
3. Please inform in advance if extra bed needed and additional fee will be charged.